No stories about how commercials for sedatives should annoy you, but instead help you get through the realities of Kyrgyz life more easily and simply.
First there was the word. And analysis, of course. Therefore, before launching the advertising campaign, we learned that previously the Brand had not been represented in digital. And in the media space did not appear for 5 years. Therefore,
The primary task was the need to ensure recognition of the sedative, given the fact that there are two forms: DAY and NIGHT. At the same time, the key performance indicator is to achieve the highest possible coverage, high frequency and growth in demand at the POS.
After discussing communication channels, studying the audience and trends up and down, we decided to connect mix of channels:
OLV + placement on news resources (in the place of the most acute triggers for excitement) + e-com + search campaign.
In this case, we took into account all the features of the brand and used different tactics for each of the forms:
NIGHT: display of the ads was only during the night – 21:00 – 04:00. During the month of Ramadan, when users are most active at night, the emphasis on local resources was placed on the placement of this form.
DAY: Demonstration of advertising creatives only in the daytime – 04:00 – 21:00. Emphasis on 3 variants of the ads, with the help of solving the problems of stress in different life situations.
In order to be able to track the results of the campaign we created a website, which told about the PRESENT and its sales locations in the most interactive and interesting form.
Various metrics and tags were plugged into the site for later use by a warm audience.
MIX CHANNELS:
Banner (Kaktus Media and Akipress)*
OLV (IG, YT, Programmatic ) Search
Placement in online pharmacies (IG)*
THE PROBLEM AND THE SOLUTION:
By collecting weekly statistics the problem of advertising in YT was found in time (change of advertising algorithm in KR) and the decision was made to reallocate the budget to more effective platforms, which allowed to achieve maximum coverage of the target audience.
IN 1 MONTH:
More than 27 thousand users on the site;
More than 32 thousand sessions;
The average duration of a session – 14 sec.
According to Google Analytics: the most visited page of Persen Night is due to maximum activity in Orozo Ait.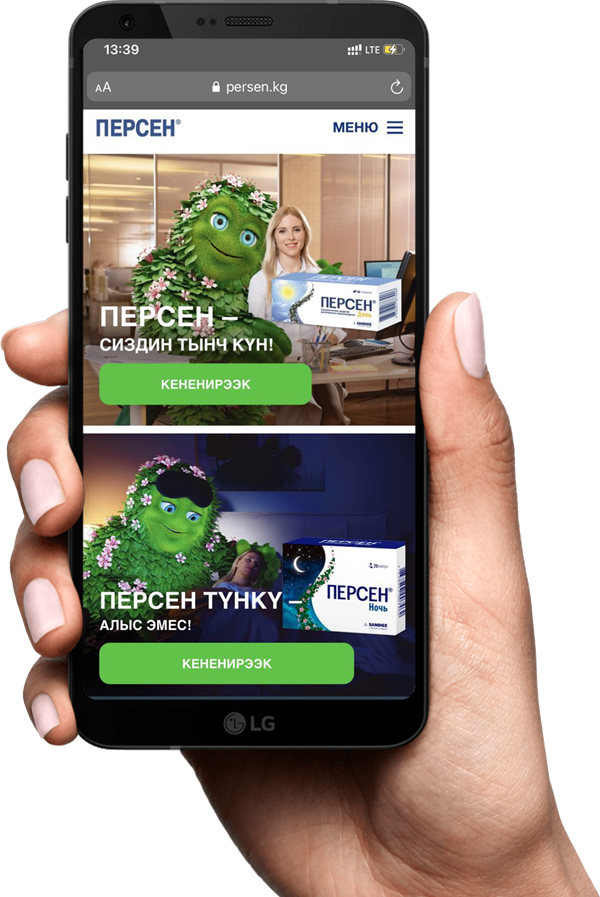 *No targeting option
**It is possible to target
*** Cost per 1,000 users reached
---